William Allen Alumni Association
Classes of 1900 - 2019
AHS Fallen Heroes
The following alumni gave the ultimate sacrifice to protect the freedoms we have today.
If you have information on alumni who served and died while serving during WW II, Korean War and VietNam Wars, please send us an email for inclusion on this page.
Please share a memory and post to their obituary profile found under the "In Memory" section of our website.
WW II
Korean War
1950 - John P. Harrich - Class of 1949
Army 10/23/1931 - 09/16/1950
1950 - Charles C. Keiser - Class of 1950 -
Army 03/02/1932 - 10/10/1950
1952 - Albertus T. Kleintop Jr. - Class of 1947 -
Marines Corps - 08/27/1929 - 04/06/1952
1953 - Robert G. Scheirer - Class of 1946
1928-1953
1950 - Randolph W. Weller Jr. - Class of 1949 -
Army 1931 -1950
Vietnam War
1965 - Robert Lee Hirst - Class of 1958
Army SP4-E4 06/07/1940 - 11/17/1965
1968 - David Thomas Barnes - Class of 1964
Army SP4-E4 04/03/1947 - 04/28/1968
1967 - Wilbur Thomas Stair - Class of 1947
Air Force- MAJ - O4 03/20/1929 - 01/25/1967
1967 - Gordon Edward Stoudt - Class of 1965
Marine Corps - LCPL - E3 07/15/1947 - 04/30/1967
1967 - Thomas William Fisher -Class of 1965
Marine Corps - LCPL -E3 12/21/1946 - 09/04/1967
1968 James Robert Bruder - Class of 1967
Marine Corps - LCPL - E3 02/28/1949 - 02/25/1968
Panel 41E - Line 17
1969 Edward M. Holtzman - Class of 1967
Army 06/08/1948 - 02/11/1969
1969 - Jeffrey Clayton Barthol - Class of 1967
Marine Corps - LCPL - E3 11/17/1949 - 03/04/1969
Panel 30W - Line 35
1969 - John Arnold Quinn - Class of 1958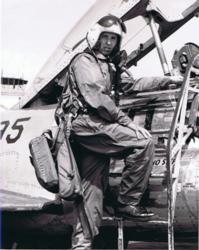 Air Force -MAJ-O4 08/29/1940 - 10/02/1969