William Allen Alumni Association
Classes of 1900 - 2019
Reunions
2019 Reunions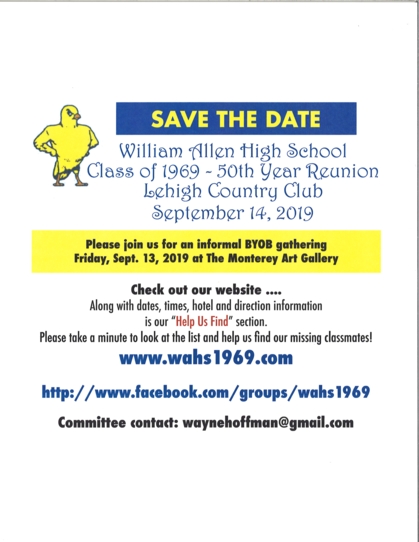 Class of 1984 will hold their 35th reunion
When: Saturday October 5, 2019, 6 PM
Place: Fearless Fire Co. #14 in Allentown PA 18103
The cost is $45 per person, there will be a hot buffet, a cash bar, dancing, photo booth, trivia and throw back photos.
Registration and money is due by August 14th,
checks should be made payable to
William Allen High Class of 1984 and sent to
Michelle Adamcik, 644 N 10th Street, Allentown PA 18102-2210.
For more information please see WAHS Class of 1984 group page on Facebook. We also have information posted on the Class Mates website.
For any additional questions please email me at wahs84miki@live.com. Thank you!
AHS Class of 1954.....65th Reunion
Location: Iron Lakes Country Club

on Friday, October 11, 2019 from 11:30 to 3:30

3625 Shankweiler Road, Allentown, PA 18104

Lunch will be served promptly at 12:15, cash bar will be available

choice of fish, foul or beef

mailing to be forthcoming
2021 Reunions